I recently purchased a System 76 laptop (Lemur model). This laptop came with Ubuntu pre-installed in a single partition. After playing with it a bit, I did a clean install with Kubuntu (not crazy about Unity or Gnome 3) and partitioned the disk as I liked it. I switched from Evolution to kmail and was working OK with it.
After getting fed up with kmail (seemed to hang after being left alone a day or so, even less sometimes)and KDE, I decided to try out XFCE. My laptop's maximum resolution is 1366×768, a mode not available on the desktop monitor. The monitor's default (best) resolution is 1680×1050. I often ended up with a desktop clone on the laptop without being able to see the panel at the bottom of the KDE screen.
After moving to XFCE, I stumbled onto a neat shortcut — Cmd-P (Cmd is the Windows or Ubuntu key on the laptop). This brings up this dialog box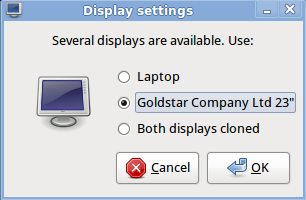 which simplifies moving from the desktop display back to the laptop only.
+1 for XFCE